"Coming from street life to the point where I can earn money myself is a big thing, isn't it?" Sabir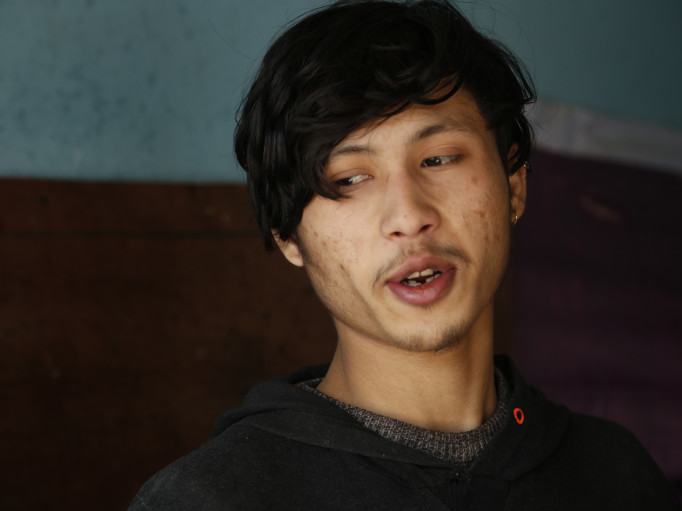 A life at home to a life on the street
22-year-old Sabir knows the challenges that come with being a child on the streets of Kathmandu. His childhood was a very difficult one - his father was an alcoholic, who used to abuse his mother, who in turn had little desire to look after her children. When Sabir was just five years old, he left home and ended up on the streets of Nepal's capital.
The initial days were incredibly harsh. He remembers picking up stale food from the waste containers. Begging and pickpocketing were his only means to survive.
"There was always a fear of being killed or robbed by members of other groups. If you are a girl, then there is a constant fright of being raped." Sabir
quote_block
Winters were the hardest. He remembers curling up inside his big sweatshirt to keep him warm during the cold nights. Once, a vehicle ran over him crushing his left leg. In the beginning, the driver provided financial support for his treatment. But after a while, he stopped showing up and Sabir had to beg for money to afford the treatment as well. Sabir was struggling when, two years on from his accident, his sister found him and took him with her to the place she was staying through the support of a local organisation.
Skills for the future
This is where Sabir learned to cook. He tried to continue his traditional education at school but couldn't pass the exams to go beyond Year 9. Instead, he embarked on a course to learn how to cook, which gave him the opportunity to do practical work experience at different restaurants around Kathmandu. He even went to Mumbai in India to cook in a restaurant there, which earned him a monthly wage of 10,000 Indian rupees (approx. £100). He worked hard and soon asked for a raise in his wage to recognise his work, but the owner didn't agree. Not long after that however, he developed gall stone which left him unable to work due to the constant pain. That is when he decided to return to Kathmandu.
Someone to have his back
On returning to Nepal, he met Myra who was kind to him and trusted him. Over time, they fell in love and after two years of courtship, they got married when Sabir was 21. It was through Myra that Sabir came to become involved in Toybox's SAFE project with our partner, CWIN, in Nepal. She was already involved in some project activities and asked for support with getting treatment for Sabir's gall stone. Not long after he was feeling better from that however, the Covid-19 pandemic implemented restrictions in Kathmandu and the young couple struggled through the lockdowns like many others in the country.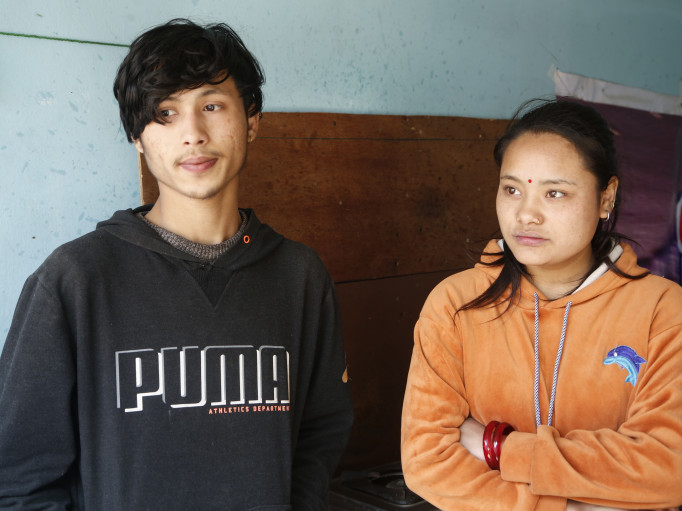 One day however, Sabir and Myra approached one of the project workers and asked for some financial support to set up a small food business to use Sabir's skills to support themselves. They'd already begun selling some products to get by, but with the support of CWIN, they were able to expand the business little by little, buying pots and utensils and even finding a space to rent where they could cook for a couple months to get them started.
From begging on the streets to businessman
Now Sabir has set up a permanent kiosk in a small settlement, close to the international airport in Kathmandu. At first, he was selling tea, coffee and other snacks like pakoras and cookies. Now, he's expanded his product list and today, you can buy anything from momos, chowmein, thukpa (a traditional noodle soup) and a few other snacks to typical teas and coffees at his stall.
It's now been a few months since he started the eatery and he's already gained quite a few regular customers. He's currently working with CWIN to manage the business finances better because, as is not uncommon in Nepal, many of his regular customers keep credit balances, leaving him with insufficient money for the daily shopping for the store.
"A customer from the neighbourhood once left saying he will come back in a while with a friend. He didn't come back. And when I called him, he said he is already out of valley. His bill is big, so I hope he returns." Sabir
quote_block
Despite this however, Sabir is overjoyed that he is running a small business of his own instead of wandering aimlessly on the streets. He dreams of owning a big restaurant and wants to build a small, one-storey house for him and his wife in a quiet part of town. He hopes to have children one day and give them a wonderful future where they can all live happily together.
When he thinks about where he has come from when he first left home, he is very happy with his achievements so far. Many of his friends are still on streets, some do drugs and some have already passed away.
"I was lucky that I chose the right path on time; otherwise I would have already been dead like many of my friends. I am lucky that my sister made me aware of the good choices I had then." Sabir
quote_block