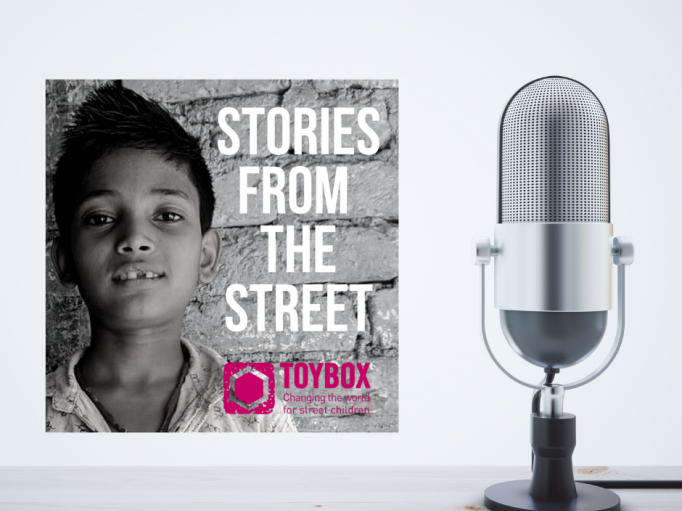 Stories from the street
We are back for series 2 of the podcast, sharing insight from the streets in Latin America, Africa and Asia where our partners are supporting street children. Find out more about the challenges faced by children connected to the streets; whether a child is sleeping on doorsteps or walking the streets everyday to collect scrap to earn money to feed themselves and their family, Toybox strives to meet street children where they are in their life. Stories from the street was created to highlight the challenges faced each day by more than 150 million street children around the world.
Back to school for street children
In this episode we take time out to discuss what is happening on the streets of Nepal.
An estimated 90 percent of the world's school-aged children have had their education disrupted by the pandemic, according to UNESCO. We know that before the COVID pandemic, 1 in 5 children and young people around the world were not in school. That's an estimated 263 million children missing out on an education (UN, 2018). What will we see next for street children who already had so many barriers to entering education, what will the impact be on their learning and their future?
85% of street children in Nepal are illiterate, we know that more than a third of 10–14-year-olds in Nepal are working which means they are unable to attend school full time, but why? Tune into the podcast to find out more from Naomi Hall-Opiyo, Toybox's Director of International Programmes.
Listen to the Toybox podcast
Listen to the podcast on all good podcast providers, don't forget to subscribe.
Or Ask Alexa to play the Stories from the Street podcast!
Follow Toybox on Facebook and Instagram
To keep up with the release of new episodes, keep an eye on our social media channels and please share with people around you, help us to amplify the voices of street children seeking support to bio;d a life away from the dangers of the street.