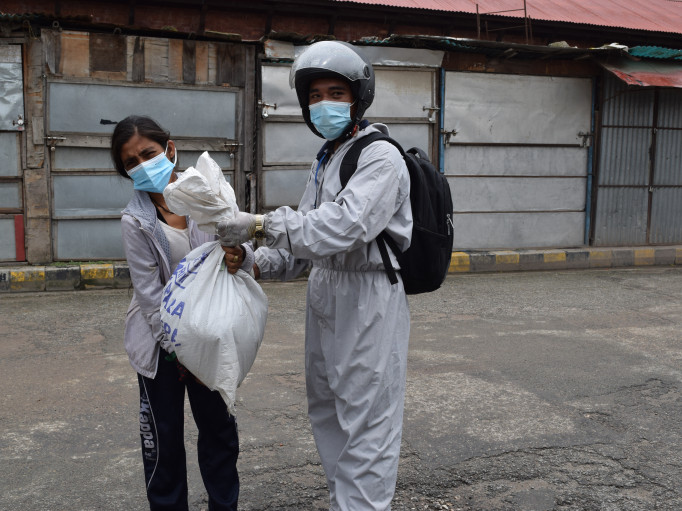 A recent report published by the UN in June 2021 highlighted that for the first time in twenty years, progress to end child labour has stalled. The COVID-19 pandemic has increased pressure on children to enter the work force and over the past 18 months many families have lost their jobs and seen their incomes plummet. At the same time, schools have been closed for prolonged periods intensifying expectations that children contribute financially, while making them even more vulnerable to the worst forms of exploitation.
Survival on the streets
Earlier this year, Biso Bajracharya, CEO of our partner SathSath's reported, "Today, we spent six hours outside the COVID-19 cremation site. We were not allowed to go onto the site but could observe from the side of the river and communicate from there with the young people working there. We noticed that all the cremators were street connected young people, along with some adults from the slum area. All together we saw 14 people working at the site - seven of the boys are currently connected with our projects.
While we were there, we asked the boys about the work and why they were doing it. They said as lockdown was imposed, they were out of work and for survival they came to work at the cremation site. They said they were paid Nrs.1000 per body (approx. £6) which they share among the group at the end of the week.
They boys were given somewhere to sleep and food, but they are not allowed to go outside the cremation site. The boys also then collect all the ashes from the funeral pyre in sacks and take it to another side of the river where they pour ashes in the flowing water to search for precious metals such as gold and silver.
The area where they are working was specially created to cremate those who have died from COVID-19. The boys are given the required gloves, PPE, shoes and masks but we observed that they are not taking enough precautionary measures. These young people see it as opportunity - they only see the monetary benefits rather than the risk from contracting the virus. They are taking very high-risk jobs for the sake of money."
Impact of COVID-19 pandemic in relation to child labour
It is clear that the pandemic has impacted so many aspects of daily life and with fewer employment options available, young people are taking whatever work they can find. At this difficult time, SathSath's frontline workers have been in constant contact with the boys, focusing on both their mental and physical wellbeing.
They have done this through face-to-face meetings (when this has been permitted) and by phone. The team have also advocated on the boys' behalf with the cremation management committee. This support has been vital as it ensured that they were paid for the work they had undertaken and that they were provided with the necessary protective clothes and equipment to carry out their jobs. In addition, counselling support will also be made available by SathSath for the boys undertaking this work.
The hidden child labour crisis in Nepal
Even before the pandemic, more than a third of 10–14-year-olds were working in Nepal, but since March 2020, many more children have gone out to work for the first time to help support their families. The UN estimates that globally an additional 9 million children are at risk of being pushed into child labour by the end of 2022 because of the pandemic. Other children have been forced to work longer hours or enter even more exploitative situations, putting themselves at significant risk of harm.
Once at work, many of these children will never return to school, with all the evidence showing that the longer children are out of school the less likely they are to return. UNICEF estimates that across the world 24 million children that have missed out on schooling during the pandemic will drop out for good. These findings have undoubtedly been reflected in the day-to-day experiences of many of the street children we work with and many of our partners have expressed growing concern about the type of work children and young people are engaging with.
Addressing the impact of the pandemic on street children
Toybox's Director of International Programmes Naomi Hall Opiyo explains: "In Kathmandu, vulnerable families have been left without income due to the pandemic so we have also been providing temporary assistance with rent repayments as they risked eviction. This support has been crucial - not only has it ensured that families have a safe place to stay, it is helping to lower the risk of children ending up in dangerous work environments in a bid to help ensure their family is not left homeless.
During this time, SathSath has continued to work with unregistered children and families, working to secure them their birth certificates as well as advocating with the government that unregistered families should not be excluded from future ration distributions.
We know that being registered opens up so many more possibilities for the young people we work with, both in terms of the immediate support that it available to them in times of crisis and also the ability to get an education and subsequent qualifications for better employment prospects in future. This is another key initiative which over time will have a positive impact on the rising child labour rates in Nepal.
Through the Bridge Education project, awareness sessions have been run with parents to highlight the importance of education and mobile schools have also been set up and run by SathSath, providing an important function for children unable to attend online and formal classes disrupted by Covid 19. Given the nationwide school closures, the project is enabling those who would otherwise not have been able to join online classes to do so to continue their education. This is a fantastic intervention, which is preventing street children from dropping out of school entirely and entering into full time work. Over a three-month period, 117 children were supported through the Mobile School. The initiative has certainly been a strong success - 82% of the children returning to formal school."
Back to school for street children
With your help we can encourage and support more street children in Nepal to flourish in school. If you are able to help a street child today, please take a look at our gifts of a school uniform (£14) and a stationery kit (£6). Our goal is to help 105 children in Nepal get back to school with these necessities this school year.
A gift of £20 will help a street child to be equipped and ready for the new school term.