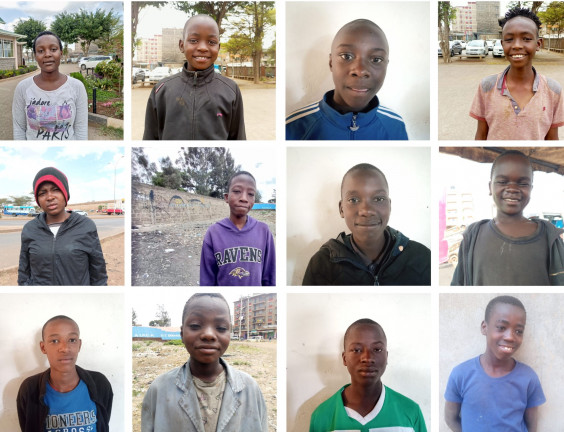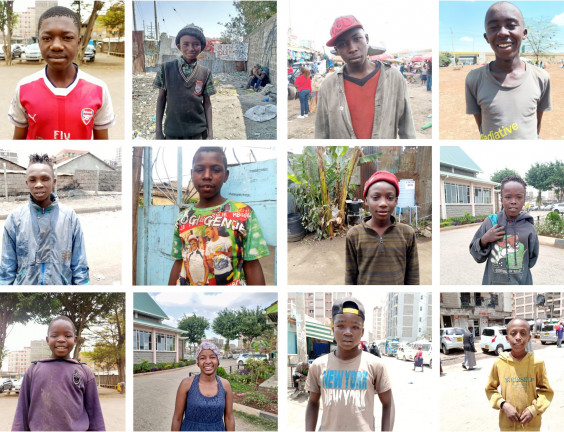 Sauti ya Bazenga (Voice of the Boss) was an innovative project supporting children and young people on the streets to tell their own life stories through the medium of photography.
97 children and young people in Nairobi attended the initial training course, of which 38 went on to become actively involved in the photo collection aspect of the project.
At the end of the project, the young people were asked for their reflections and feedback on their involvement in the process. Here's what some of them had to say....
Feedback from the participants
"I wanted to know how to make memories through photographs. I enjoyed the part where we were explaining the story and the context behind a photo. I learned that a picture can be used to communicate a message." Wambo, 21 (top row, far left)
"I participated in the Sauti ya Bazenga project because I wanted to have photo taking skills and teach my friend the same. What I enjoyed most was going round with the camera taking photos and watching my friends take photos because some of them were posing in very funny ways. We also enjoyed looking at the photos we captured because they were beautiful. I learnt different types of shots, like the head shot, crop shot and medium shots." Stanley, 16 (top row, third in from the left)
"The Sauti ya Bazenga project gave the base members an opportunity to explore their talents in photo taking. The pictures will offer special memories to me and my friends.Taking photos together strengthened the bonding in the base as we worked together as a team. I was happy taking photos with my friends. The project has taught me patience. You must be patient in photo taking so that you can capture good photos." Osando, 16 (bottom row, far left)
"I love taking photos and I wanted to know how to take good photos. I was told I would take photos of our daily lives at the base by our teacher. The base members are part of my family and I wanted to capture the moments for remembrance. I wanted to show the people the life we go through in the community" I learnt how to capture what I saw interesting to my eyes." Tumo, 13 (photographed above, giving feedback with a member of staff from Toybox's local partner, PKL).
"I decided to participate in Bazenga project because I wanted to know how people take photos and I had an interest of taking photos by myself. I was happy with how the teachers supported us even when we made mistakes. I enjoyed taking pictures of my base member when they were cooking. I learned the different types of photos and that photos can tell a story." Mapei, 13 (bottom row, second in from the left)
"I wanted to join Sauti ya Bazenga because taking photos seemed a lot of fun to me. I liked it because it kept me busy. I enjoyed taking pictures at night and watching others take pictures. Some were good and others not very good. The exercise was good because those pictures will remind us how our lives used to be in the future." Kuimo, 17 (Middle row, fourth in from the right)
"I enjoyed holding the camera and taking photos of my friends playing football and sleeping I learned that I could move near an object when taking photos so that they appear clearer. Photos are good because even later in life, you can see how things /people were in earlier times." Denis, 15 (top row, third in from the right)
"Joining Sauti ya Bazenga helped me acquire knowledge and skills of taking photos. I'd like to become a professional photographer in future. I enjoyed taking different types of photos by myself. I'm happy that through the photos we took, people who may never have a chance to come where we live and know about our lives." Faye, 20 (bottom row, third in from the right)
See their stories: View the Sauti ya Bazenga photo gallery