"With lockdown restrictions anticipated to be extended further, these young people have no way of earning to buy food and more families may be pushed onto the streets as they are unable to pay rents." Naomi Hall Opiyo, Director of Impact and Programmes at Toybox
quote_block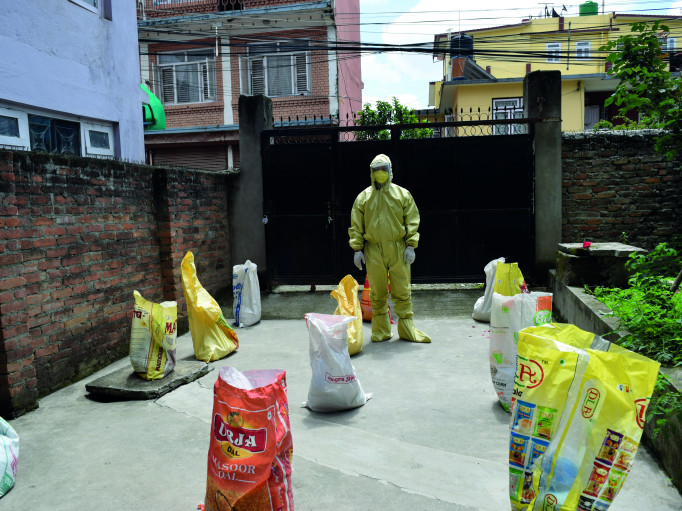 Toybox has been working with our two partners in Nepal for several years, focussing on child rights, identity and supporting children to build a future away from the streets. There are said to be more than 5000 children living and working on the streets of Nepal, with this being difficult to measure, this figure could be even higher. In 2015 it became illegal for children to live on the streets of Kathmandu, increasing the set of incredibly difficult circumstances in which these children find themselves, caught between the dangers of the street and the fear of being in trouble with the police for simply seeking safety. At Toybox we know there are street children in Nepal who walk the streets at night too afraid to sleep.
Street Children in lockdown
Among the most vulnerable in society, street children have been living day to day in Nepal without access to healthcare, indoor shelter, or even running water for handwashing to protect themselves from the virus during the earlier lockdown periods which began in March 2020.
Before the pandemic more than a third of 10–14 year olds were working in Nepal, without this income our partners stepped in to provide emergency support, which without identity documents is often unavailable to street children.
As restrictions initially eased our partner SathSath introduced a mobile school in order to bring learning to street children in Kathmandu, without access to mobile phones, computers or the internet, chidren could not access school online learning provision during the months of school closures. Currently over 85% of street children in Nepal are illiterate. The SathSath team continued to distribute food rations and hygiene kits (masks, soap etc) to those in need.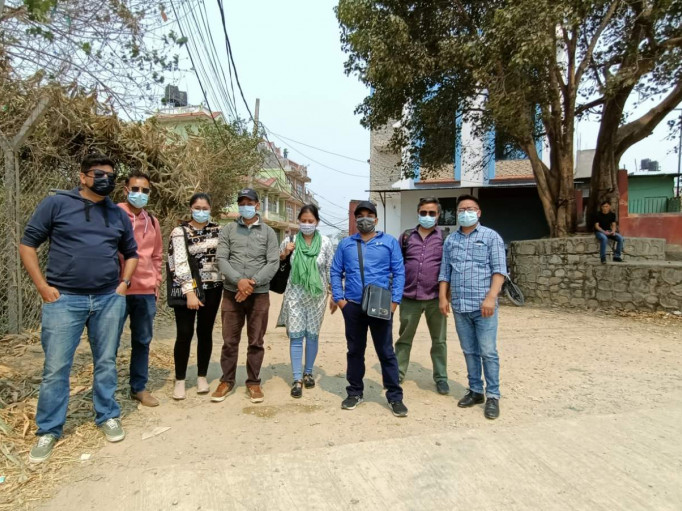 Covid 19 in Nepal
Our long-term partner projects have now once again been rocked, this time by the huge spike in Covid cases. Spiralling out of control, we have seen reports of a national positivity rate of 47% of all Covid tests taken.
One month ago, Nepal was seeing 100 Covid 19 cases a day. On 11th May 2021, we saw reports of 9,483 new daily cases and sadly 225 virus-related fatalities, the highest single-day death toll since the pandemic began.
With 9,238 new cases, Nepal's reported Covid-19 total cases reaches 422,349
A huge part of the work of CWIN and SathSath our partners based in the city of Kathmandu is outreach work, with another period of lockdown in place, currently extended to 27th May, the government has advised residents not to go out unless absolutely necessary.
Not unlike their neighbours in India, Nepal has experienced overwhelm in their hospitals, with less than one doctor per 1000 people, a lack of oxygen, not enough ventilators and Covid wards at full capacity, patients are being seen in corridors and tents.
Reports suggest that 362,000 people have been fully vaccinated to date, said to account for only 7% of the country's population, for comparison purposes, this sits well below the UK's 27.7%.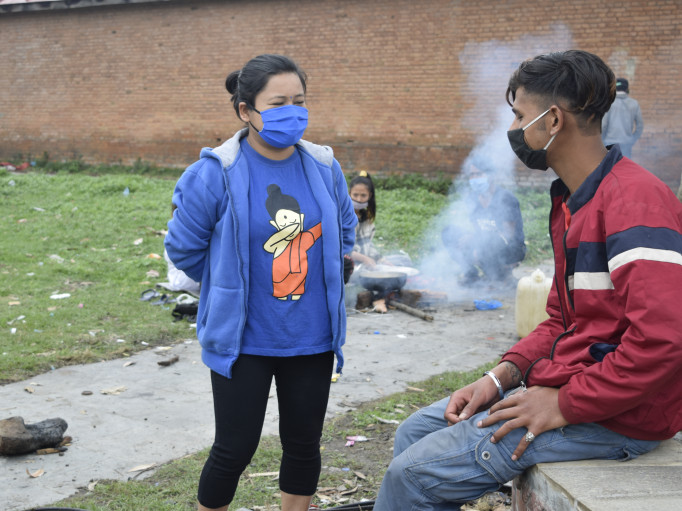 Covid testing and vaccinations for street children
Sumnima Tuladhar, Executive Director of CWIN, one of our partners in Nepal: "Very few tests are being carried out among our constituency of street connected children. There are many street children and their families living in fear of having the virus but without the PCR tests, they continue suffering without any medical attention. In addition, the situation of the Covid 19 is getting worse, almost chaotic in Nepal as we are facing a severe scarcity of oxygen cylinders, hospital beds, ICUs and ventilators."
The Nepalese Government has published online registration for a new round of vaccine against Covid for all the citizens above the age of 18. We need to help the young people and their families to get vaccinated. Many of them might not have citizenship or an official ID, for this, we plan to speak to the Ministry of Health/Teku Hospital to ensure that the street connected families are not deprived of their right to vaccination."
We know that some street children were not able to receive limited government distributed rations during the last lockdown as they didn't have their legal identity (birth certificate/citizenship). SathSath is working with these families to secure their birth certificates and advocating with the government that they should not be excluded from future ration distributions and as highlighted above by Sumnima of CWIN, access to testing and vaccines.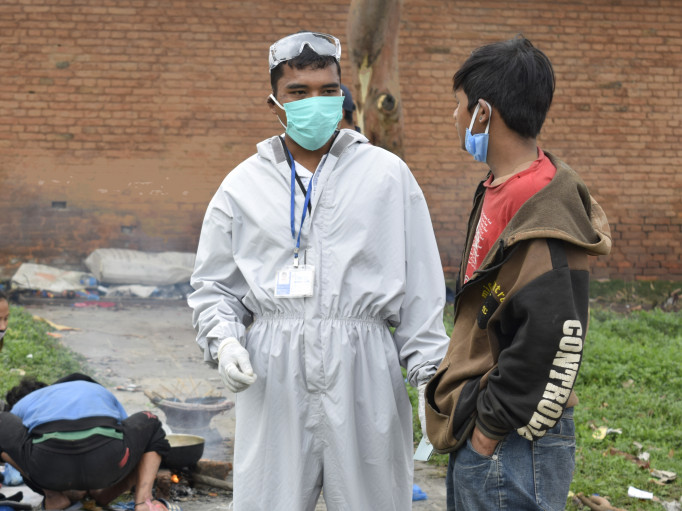 Reaching street children during the Covid crisis
Biso Bajracharya, Executive Director at SathSath tells us: "Our Peer Leaders and Peer Educators are taking responsibility for relief distributions. We are using a morning three-hour window for distributions, during this time it is possible for us to reach the street connected children." SathSath have told us about the first loss to Covid 19 among the street children who they engage through vital outreach work. SathSath were supporting a street youth living at the scrap collection centre following the loss of both his parents. This young person would collect scrap as an income and had begun the birth registration and citizenship process supported by Toybox. He was taken to the emergency ward at the local hospital, very sadly subsequently, his body was taken by the Nepal Army for cremation.
Supporting street children in Nepal
Naomi Hall Opiyo, Director of Impact and Programmes at Toybox works closely with the teams in Nepal: "We have all seen the devastating scenes coming out of India in recent weeks and while they are still battling with high rates of Covid infections, neighbouring Nepal is silently suffering. The relatively small landlocked country is unfortunately on the same trajectory as India but is unlikely to receive a fraction of the support that India has, despite being poorer, having less health personnel per capita and only 7% of the population being vaccinated."
They are also reliant on India for both vaccines, Oxygen and other vital supplies which India is not able to share right now. It is the poor and vulnerable which suffer most."
Toybox works with street connected children and their families who rely on daily wage labour or selling items to obtain food to eat and to survive day by day. With lockdown restrictions anticipated to be extended further, these young people have no way of earning to buy food and more families may be pushed onto the streets as they are unable to pay rents. Toybox is supporting its partners on the ground with food rations, hygiene kits, educational materials and psycho-social support for vulnerable street connected children and families to prevent them falling further into despair."
Some things haven't changed for street children despite the extreme circumstances. Since street connected children can be rounded up by police on the streets, many continue to seek refuge in the Pashupati area in Kathmandu, a holy area open to everyone in Nepal. Here the children can sleep either outside or in rooms in safety, where the police cannot disturb them.
Long term impact of Covid on street children
Toybox partners CWIN and SathSath have shared their concerns around the toll on mental health of young people connected to the street. The daily struggle for food and other basic needs, to fears for the future, for example should they need emergency medical treatment and how they will afford school fees and supplies once schools are reopened are weighing heavily on these young minds.
Toybox partners in Nepal
Find out more about our work in Nepal