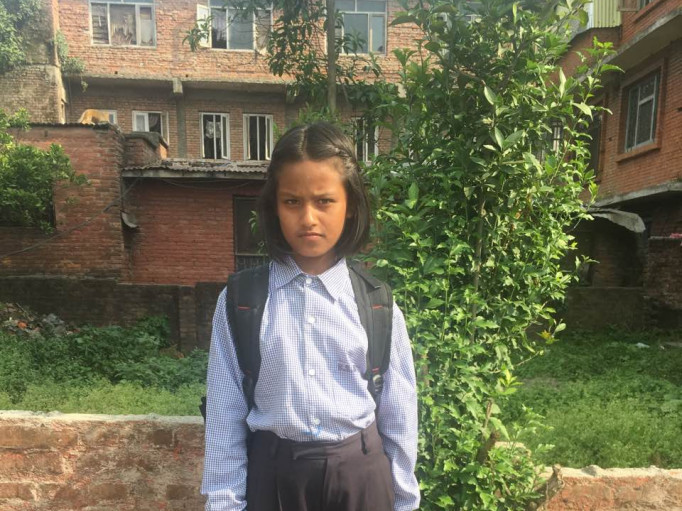 The education of children around the world has suffered throughout the COVID-19 pandemic, but we know that street children faced significant challenges with accessing education even before the virus struck.
Our partners have done all they can to adapt and create learning opportunities over the past 18 months from online learning to mobile school, offering outdoor learning sessions for street children.
Prior to the pandemic, schools in the city of Kathmandu have even been closed due to extreme levels of air pollution, further disrupting the education of millions of children.
The Bridge Project
Our partner SathSath has been working alongside street children in Nepal since 1998 to assist street children and young people to develop skills, build confidence and learn how to exercise their rights in society. SathSath's work includes a focus on non-formal education. As a result of their work we often see children like 10-year-old Bibek make the decision to join the formal school system, realising the long term value and the joy of learning new things alongside other children gained from attending school.
What stands in the way of learning for street children?
The answer to this is vast, it might be that children like Reena are working to support the family income or have the responsibility of looking after the home and siblings. Many parents do not understand the full extent of the value of an education for children.
Birth registration is a barrier for children accessing and progressing in the formal school system, limitations are imposed on those without an official identity.
What about the back to school basics?
When a family's income is stretched to pay rent and provide food, sending a child to school can have a negative impact on a household income, not only through that child not earning but also the associated costs.
SathSath works with families to help them understand the importance of children attending school, and of them not working at such a young age, in dangerous, and often labour intense roles.
For a family reliant on the street, the cost of essentials must come first. Rent, food and hygiene are of course the absolute priority for a family which might earn around £1.40 per working member of the household, per day to try to cover these basic needs. The informal job market where many street children and their parents source an income is not accompanied by sick pay, redundancy or annual leave. Any absence from work, including the loss of earnings from pandemic related closures including restaurants, hotels or driving work, cannot be recovered. Many street families have found the need to take out a loan to cover costs which they are now working hard to repay.
School essentials for street children
Stationery materials to carry out the day to day learning and their additional homework after school are another basic essential for school students.
Not only are these items important in schooling, lack of them can make street children stand out at school. We know that discrimination exists for street children and their families, but we know it also exists in schools. We want street children to be treated fairly by teaching staff and their classmates regardless of where they are living or what their family income is, we want to see them succeed in school and build a future for themselves, away from the street.
With your help we can encourage and support more street children in Nepal to flourish in school. If you are able to help a street child today, please take a look at our gifts of a school uniform (£14) and a stationery kit (£6). Our goal is to help 105 children in Nepal get back to school with these necessities this school year.
A gift of £20 will help a street child to be equipped and ready for the new school term.