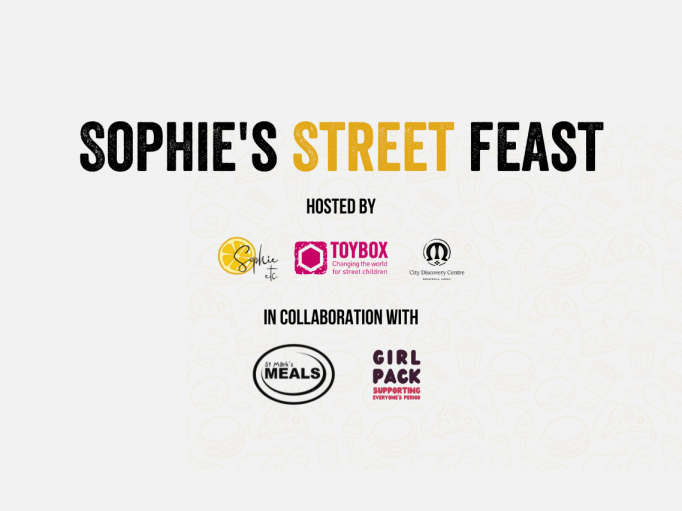 Get ready for an experience like no other! Join us on Sunday 3rd September at Bradwell Abbey, Milton Keynes for a street feast hosted by Sophie etc., Toybox and MK City Discovery Centre.
Sophie's Street Feast will bring together an eclectic and exciting mix of local street food vendors, offering an array of delicious dishes inspired by cuisines from around the world, with something for everyone to enjoy. Proceeds from the event will support some of Milton Keynes' fabulous small charities including Toybox, St Marks Meals and Girl Pack MK.
Sophie Neal, blogger for Sophie etc. says, "Having worked closely with Toybox over the past nine months, I have seen the value of the work they do for street children around the world. St Mark's Meals and Girl Pack share their values and support the community a little closer to home, so they made a natural partnership for this event. Milton Keynes has a thriving street food scene and I can't wait to introduce the local community to these charities whilst they enjoy some incredible food!"
Naomi Lewis, Toybox's Marketing Director, says, "We are so excited to be collaborating with Sophie to host a special street food event at MK City Discovery Centre. Here at Toybox, a vital part of our work is providing children living on the streets with a hot nutritious meal which, for many, will be the only thing they get to eat that day. We are delighted to be able to partner with St Marks Meals and Girl Pack MK – two local charities who hold similar values to us who are doing amazing work to support vulnerable children and families right here in Milton Keynes."
For enquiries, please email [email protected]
Event FAQs can be found here
About Sophie etc.
Sophie etc. is an award-winning Milton Keynes food and lifestyle blog by Sophie Neal helping you to discover the best independent places to eat and explore in Milton Keynes. It provides guides to independent restaurants, small businesses, and things to do within an MK postcode. Sophie's mission is to inspire the discovery of a whole different side of Milton Keynes through independent businesses. For more information visit www.sophieetc.com
About Toybox
Toybox works with children who have been plunged into the chaos of living or working on some of the world's most dangerous streets. It supports children marginalised and abused by those who should protect them and works with local organisations who are best placed to help find the most appropriate ways to prevent and help children escape from a life on the streets. Toybox works in El Salvador, Bolivia, Guatemala, India, Nepal, Sierra Leone and Kenya. For more information visit www.toybox.org.uk
About City Discovery Centre
Milton Keynes City Discovery Centre works in collaboration with the Milton Keynes Council to manage and maintain the Bradwell Abbey site for the benefit of the Milton Keynes community. They also offer educational programmes to support all levels of learning in urban studies and heritage studies - as well as the historical and natural heritage of Milton Keynes. For more information visit www.mkcdc.org.uk
About St Marks Meals
Over 18,000 children in Milton Keynes live in poverty. St Mark's Meals help to make sure these children can access food at home by providing meal kits to families across the city. Meal boxes contain a recipe card and all the ingredients needed to make a nutritious meal for the whole family. Meal kits are distributed through schools and children's centres, meaning children can get the help they need from adults who already know and support them. For more information visit mealsnetwork.org.uk/st-marks-meals
About Girl Pack MK
Girl Pack is a small charity based in Milton Keynes that distributes period packs to primary and secondary schools, community, family and children's centres and local parish offices. Their packs, which include sanitary packs, hygiene products and knickers are available to all. If you are in need - they are there for you. For more information visit Girl Pack is a small charity based in Milton Keynes that distributes period packs to primary and secondary schools, community, family and children's centres and local parish offices. Their packs, which include sanitary packs, hygiene products and knickers are available to all. If you are in need - they are there for you.For more information visit https://www.girlpack.org/