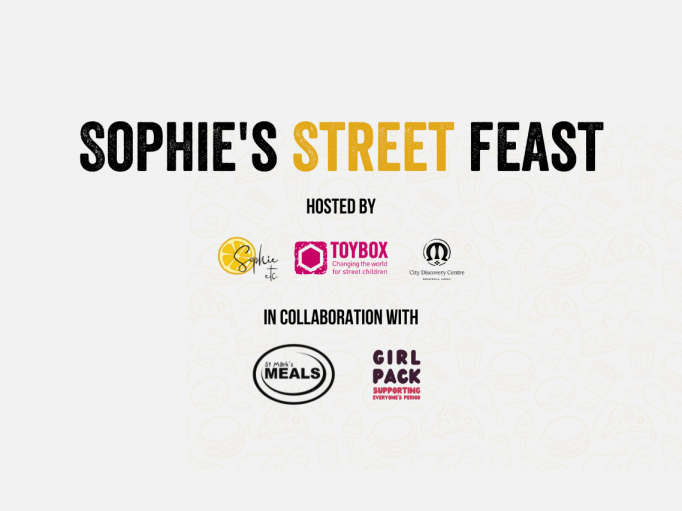 Planning to join us for Sophie's Street Feast on Sunday 3rd September and have a question? Hopefully we can answer it below! If not, please email us at [email protected] and we'll be happy to help. You can also Instagram message us to either @sophie-etc or @toyboxcharity and we'll try our best to get back to you within 48 hours.
Accessibility
We want to make this event for everyone!
MK City Discovery Centre strives to provide accessibility for all visitors. The premises are designed to be accessible, including ramps, wide pathways, and accessible facilities. There is designated accessible parking close to the courtyard - this will be signposted and if you require assistance, please speak to the parking stewards when you arrive. Our brilliant events team are here to make sure you have an amazing time. Please let us know if you need any assistance.
If you've got any feedback, we'd love to hear from you.
Babies and children
We are baby and child-friendly! We have baby changing facilities inside the main barn. Please be aware there are areas in the grounds of MK Discovery Centre that have open water. These will be clearly marked on site maps of the area provided.
Dogs
Well-behaved dogs on a lead are more than welcome, however if they're barking, or causing mischief, we'll ask them to leave - sorry!
Parking
MK City Discovery Centre has a small car park with additional parking out on Alston Drive. There is a designated accessible parking area that will be sign posted or please ask a parking steward for assistance when you arrive. If you can walk or cycle to the event, this would be very helpful to avoid any congestion coming into the venue.
Location
Sophie's Street Feast is being held at MK City Discovery Centre, Alston Drive, MIlton Keynes, MK13 9AP.
what3words: ///remainder.spreading.notebook
Food allergens and dietary requirements
Please make sure you chat to the individual food vendors to check for allergies in any dishes and for any potential cross contamination. There will be gluten free, vegetarian and vegan options available on the day.
Payment
Most food vendors at Sophie's Street Feast accept both cash and card payments.
Seating
There are seating areas both indoor and outdoor at the venue where you can sit and enjoy your food. These areas may include communal tables and benches or outdoor space for you to bring your own picnic blankets or camping chairs, depending on the weather.
Social media
We're very social. You can find us on Instagram, Facebook, TikTok and LinkedIn. Please do share your Sophie's Street Feast experience using the hashtag #SophiesStreetFeast so we can see it and share it!
Vendors
We hope you are as excited about the full line up as we are: Baja Cantina, Bokkie, Good Times Café, Gurkha Street Food, Guiseppe's Pizzeria, Lime Face, Saf's Kitchen, Sizzler's Street Food, Chouxly Scrumptious, Oh My Cakery, The Willen Ice Cream Company, Papi's Cocktails and Milk & Beans. You will also be able to buy soft drinks, wine, beers and ciders from the bar inside the Cruck Barn.
Photography
Professional photography and videography will be taking place during Sophie's Street Feast. If you do not wish to be photographed or filmed, please let the photographer know on the day, or contact [email protected].
Please note, the event organisers reserve the right to use any photograph or video taken at this event without the expressed written permission of those included. The event organisers may use the photograph or video for promotional purposes online or in print.
To ensure the privacy of individuals and children, images will not be identified using full names or personal identifying information.
If you do not notify us of your desire to not have your photograph used, you are agreeing to release, defend, hold harmless and indemnify the event organisers from any and all claims involving the use of your picture or likeness.