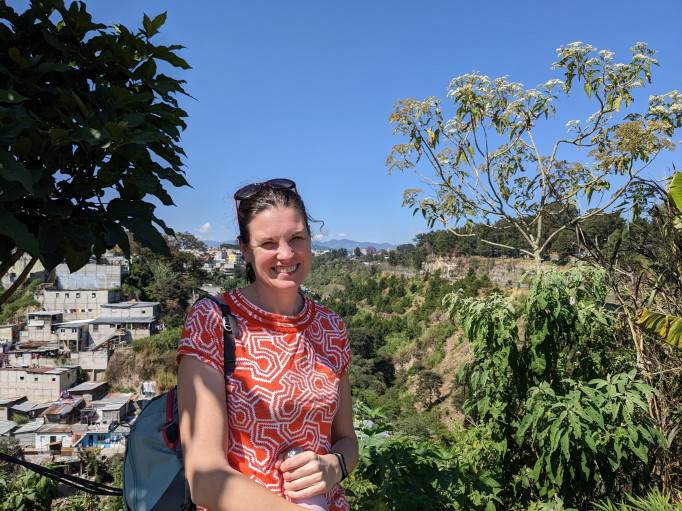 Toybox's Director of Impact and Programmes, Naomi Hall Opiyo shares her observations from a recent trip to Guatemala City to visit some Toybox supported projects.
In January, myself and the wonderful Toybox Programme Manager for Latin America, Roz, visited our two fantastic partner organisations in Guatemala City. I was thrilled to finally visit the city where Toybox began and spend time with both our partners and the incredible young people they support. Not only was this my first time in Guatemala City as Toybox, but my first time in Guatemala itself. Here are some of my reflections...
A city of contrasts
Like many cities in the Global South, there are parts of Guatemala City where you feel you could easily be in Europe or the USA with the clean streets, high rise international hotels and wide variety of up- market restaurants, cafes and buzzing night clubs. Every single American fast-food outlet can be found dotted across the city. Yet just a few miles away is the enormous La Terminal, the biggest market in Central America where hundreds of Guatemalans work up to 18 hours every day selling their wares to feed their family for just one day. On a visit to La Terminal, staff from Toybox partner, Puerta de Esperanza (Door of Hope), whizzed us round the endless alleyways of the sprawling market. Even though it was mid- morning, children slept on benches in alleyways amongst the market activity. Those who were awake looked exhausted. I thought of the contrast with my own two children currently sat in school in their clean school uniforms playing with their friends.
Children of those who sell in La Terminal must wake at 4am to make the long bus journey into the city and often don't get home until after 10pm. Children help their parents sell, try to amuse themselves while they work or catch up on their sleep. This is not a healthy or safe situation for children to be in. Because of the distances, some children are actually living in basic structures next to the market- left to their own devices for much of the day and night while their parents sell.
Puerta de Esperanza is helping children in La Terminal go to school, attend homework clubs in their building afterwards and learn about their rights through a Toybox supported programme. This means that children are replacing hours a day of the unsanitary negative market environment for a safe space with other children, receiving an education, learning new skills and how to live peacefully with their family members and peers. Sessions are also offered for parents and caregivers to learn about the importance of education and other rights for children, and their role in caring for them.
Concrete , concrete, concrete.
Guatemala city is a big, busy city with cars filling the roads and buildings lining the streets. I was really struck by how little grass, trees and flowers there was until we went to the outskirts of the city one day. We accompanied children from Puerta de Esperanza for a "retreat day" following the completion of several modules of their learning. In crisp, matching Puerta t-shirts they giggled on the swings, played fun games with the staff and proudly showed us their books. At lunchtime they keenly munched on burgers and traditional nachos with meat and cheese sauce. Lunch is a luxury meal they rarely get to eat. The contrast to La Terminal was striking- not just in the quiet green environment with tall trees and SPACE but the freedom it gave the children – to be children.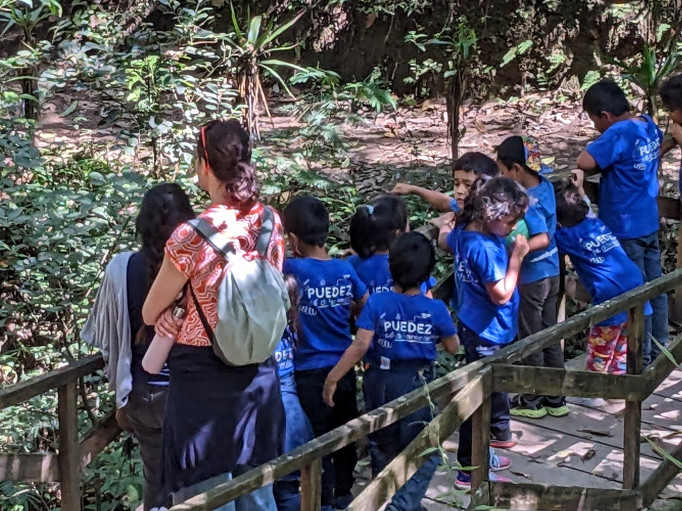 Puerta's approach- quite rightly- ensures that children connected to the streets get to experience life beyond the streets. Such experiences are so important for children who only know La Terminal- to help them dream bigger for their future and make good choices.
As we travelled back to the Puerta office, the bus carrying the children oozed joy as the children sang songs loudly and excitedly and we couldn't help but grin too. They would certainly have lots to tell their parents and siblings when they got back to the city.