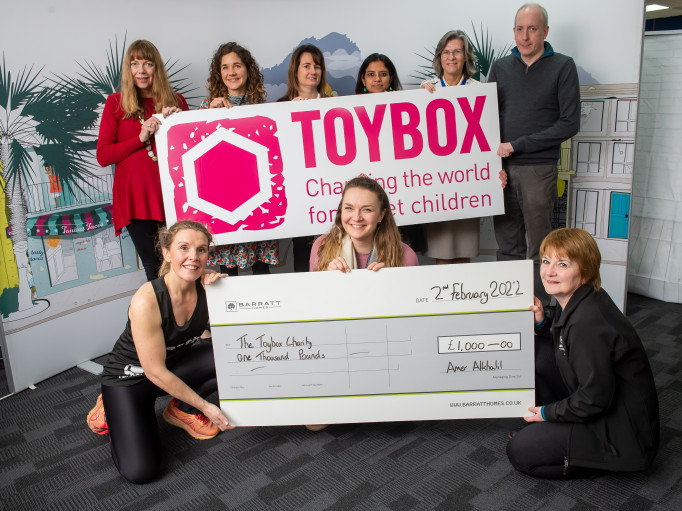 Toybox has received a £1,000 donation from Barratt Homes to help its work in making a life-changing difference to the vulnerable children across the globe.
The donation from Barratt Homes will go towards the charity's frontline teams connecting with street children to take their first steps away from the streets. This could include starting or continuing in education, assistance to obtain their birth certificate, or even providing something simple, like a warm meal.
Lynne Morris, Toybox CEO, said: "When Barratt Homes got in touch to say that Toybox had been chosen to receive the donation, we were so excited and very grateful. Now more than ever, this donation truly will make a life-changing difference to the vulnerable children Toybox works alongside.
"This incredibly generous donation will help improve the lives of children who find themselves living or working on the street. Toybox works alongside street children who might not know where they will sleep at night, where their next meal will come from or those facing a full day working collecting scraps or washing windscreens.
"We think it is wonderful that Barratt Homes has introduced a Community Fund scheme to give back to those working in their local communities and beyond. It is a fantastic example of an organisation giving back and we feel incredibly privileged to have been chosen to receive a donation.
"I would like to say a great big thank you to Barratt Homes from all of us at Team Toybox, the donation will make a difference in so many young lives."
Toybox projects vary in each country depending on the needs of the street children in that particular area. For example in Latin America, Toybox has a focus on birth registration. When a child receives their birth certificate they become a legally recognised citizen in their home country, which means they can choose to get a formal education, get medical care or have a career away from the streets.
Amer Alkhalil, Managing Director at Barratt Homes Northampton, said: "We are so pleased to be able to support Toybox and the important work it is doing.
"It is our responsibility as a leading housebuilder to recognise and support local charities and organisations which help the communities near our developments."
Find out more about our birth registration work alongside street children.