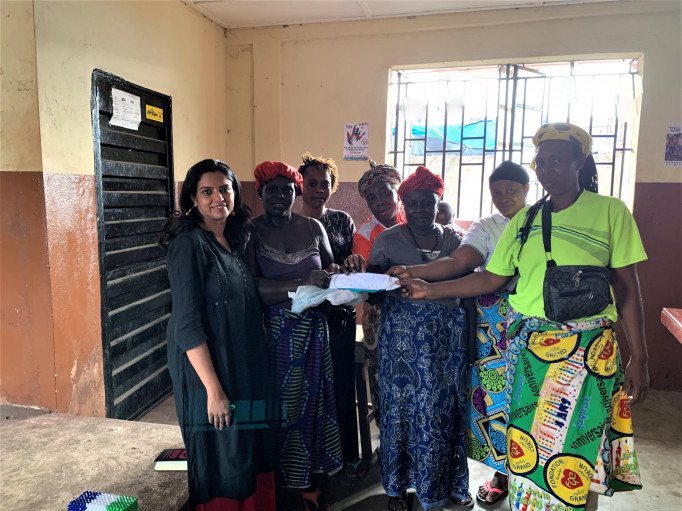 Smita Khanijow (pictured above during a trip to Sierra Leone), Toybox's Programme Manager for Africa and Asia reflects on Women's History Month and what the theme of International Women's Day this year 'embracing equity' means for us.
What challenges are the women and girls in the communities Toybox supports currently facing?
Toybox works with street-connected children, their families, parents, and caregivers. The communities we work with live in extremely vulnerable conditions. Girl children, especially younger girl children and women face sexual violence. Because these children are out of the education system and due to lack of opportunity for any kind of growth, they end up working in informal working spaces where, because of no awareness about their rights, they are often exploited. They have a lack of access to any kind of public service - be it health, food and nutrition, or even as basic a service as access to safe drinking water or toilets. They certainly don't have safe shelter space for them which makes them extremely vulnerable.
How does period poverty affect women and girls in Toybox-supported projects?
We at Toybox work with women and girls who are street-connected on issues of period poverty. Period poverty is something which is very stuck in the community we work with. This is a community which lacks information and knowledge about menstrual health and hygiene and, due to lack of information and understanding about this biological cycle they end up often falling prey to certain disease. Sometimes girls in the community end up using products like dried leaves and soiled clothes which are not only unhygienic but also makes them even more vulnerable to illness. Lack of access to health is another major issue that women and girls in the community face so often their issues go undiagnosed. Along with this, we have realised while working with the communities that menstrual health hygiene products which are available over the counter are very expensive and are beyond affordability of the community and that is why they are not able to use these products. We are working very closely with the community to create mechanisms where these products can be made in a way in which they are ecologically consciously done as well as accessible and affordable for the community.
What does 'embracing equity' mean to you and how does it apply to street children?
To me embracing equity means not only breaking or removing the barriers but questioning why these barriers are there at all. This is the approach I try to build into my work with the communities – empowering them about knowledge and information about their citizenship rights and about their basic human rights and how they can continue asserting those rights and enjoy them. That's what equity means to me.
The term embracing equity for a street child definitely means first recognition as the spaceless community is almost always ignored. They are not there in the agenda of most governments because they don't really have an agency of their own. While we do end up talking about child rights in general, there are specific challenges that children who are connected to the street face and they often get missed out. Embracing equity to me means bringing these children to a platform and forum where they can be recognised, their voices can be heard, and their agency can get recognition.