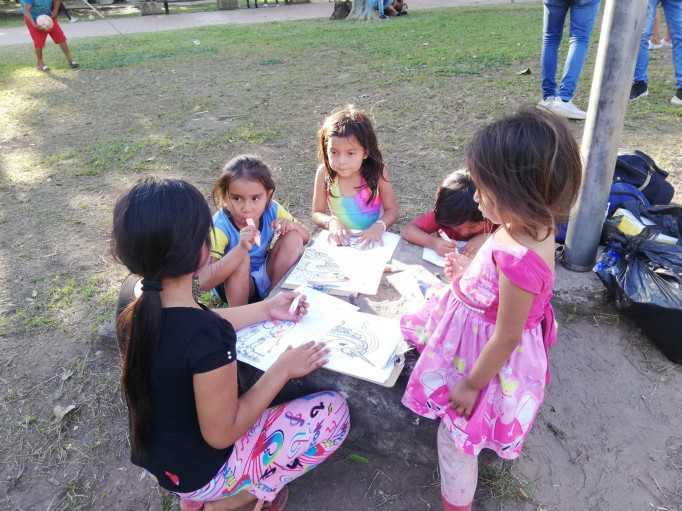 Roz Elliott is Toybox's Programme Manager for Latin America. Here she shares a reflection from a recent project visit to Bolivia.
"I meet the project team for the first time in the late afternoon. A warm wind whips around the park as a group of young people play an intense game of football. At one side, a cluster of children crouch on the ground, concentrating intently on the paper and crayons in front of them. Jimena, the Citizenship Project Coordinator, walks over with a broad smile. The Citizenship Project got underway three months ago in the sprawling city of Santa Cruz, helping children, young people, and adults in street situations to access their birth certificates and identity documents.
Each week the project team meet children and families in the city's central park. While it's a rare opportunity for them to relax and forget their daily challenges, these activities help to build trust, and enable the team to collect the detailed personal information needed to support the complex process of gaining an official identity.
I speak to Yoselin, a bubbly young mother in her late 20s. She's eager to share her excitement that the very next day, she will finally be receiving her birth certificate. Her children have never been to school because Yoselin could not register their births without her own ID documents. She tells me that her 11-year-old daughter said to her, 'Mama, I really want to go to school. Even if they make fun of me because I'm old, I really want to go.'
The next morning, we meet Yoselin and her father outside SERECI, the registry office. The Director for the Santa Cruz region welcomes Yoselin warmly. The process is complicated, but we watch as Yoselin's father signs to confirm her as his daughter - an emotional moment for her. She waits for several hours at the office as the documents are processed. Later the SERECI staff confirm that she has her birth certificate and is now officially a Bolivian citizen.'It's a miracle, I never thought I could have my birth certificate and my identity card, it was 28 years that I longed to have it. Now I can register my children and they can study. Now I am somebody and I am very happy.' – Yoselin.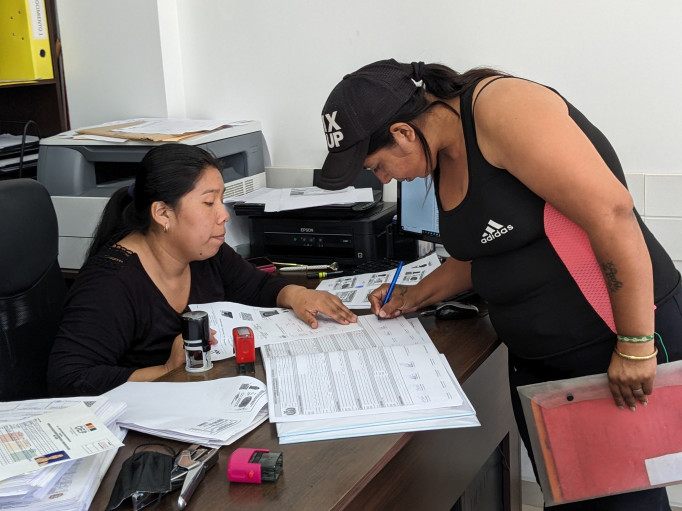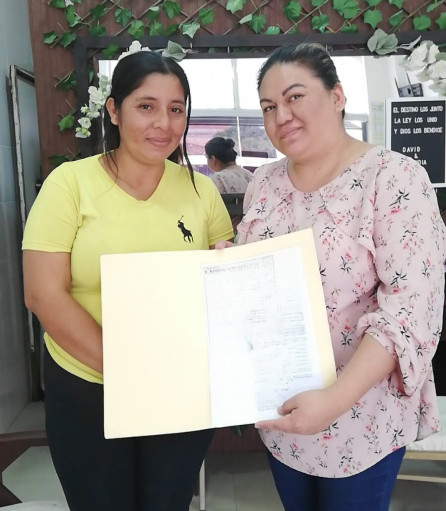 Later, a young woman called Clara approaches us while we're chatting with two boys on a street corner where they wash car windscreens for a living. She's pushing a buggy with a baby and a toddler squished side by side. She's heard about Toybox partner, Alalay and the opportunity being offered to get ID documents and asks for our help. It's another complicated case of generations without ID documents. She tells us that her mother does not have any ID either – she had been paralysed by a stroke and is unable to go out.
David, one of the project staff, takes careful note and the team share their contact details to follow up with Clara the very next day. They are ready for the next challenge to ensure they support as many children and families as possible exercise their right to an identity, name and future.
Find out more about Toybox's birth registration work here.
Pictured above: Roz Elliott, Programme Manager for Latin America.