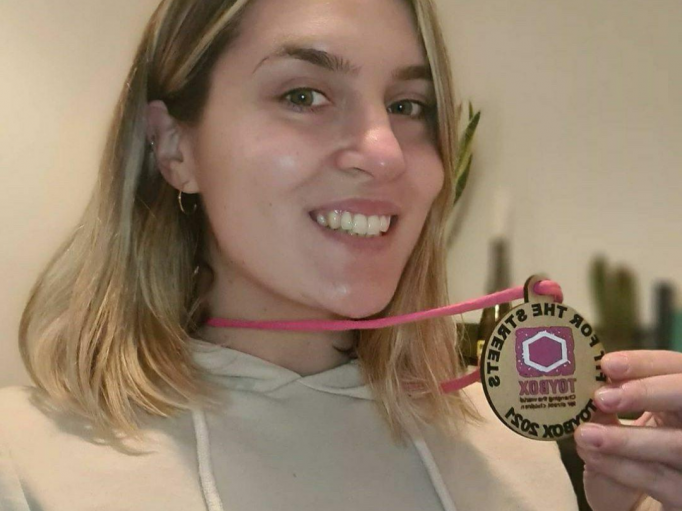 Sophie joined Toybox for Fit for the Streets to kick off January 2021. Here she shares with us her tips for fundraising, as she raised an amazing £1000 to support our work with street children. We hope Sophie's guidance will inspire you to take on a new challenge, you can do it!
Getting started with fundraising
Like many people, over the Christmas period, I ate one too many mince pies and my exercise consisted of walking to the cupboard to pick up said pie. Come January I knew I wanted (needed) to take part in a fitness challenge and since I began volunteering for MK Charities, I had been looking for a charity fundraiser to take part in. I had always admired the work that Toybox did for street children across the world and when I came across Fit for the Streets, I knew this was the fundraiser for me. I loved the fact I could set my own target and I was passionate about helping to raise funds for this charity, so I set myself the challenge of running 31 miles over January. 
Commitment to the challenge
I have always had an up and down relationship with running; I loved the positive impact that running had on my mental health, but I would often avoid going out for a run because I found it such a physical challenge. I knew that signing up to Fit for the Streets would keep me accountable and I was determined to raise as much money as possible for Toybox. There were days I really didn't want to go for a run and would throw a bit of a strop about it, but I was committed to completing the challenge and by the end of January I managed to raise over £1000.
Fundraising advice
There are some really simple techniques you can use to raise vital funds for charities - below are my top five tips that I applied to my own fundraising for Fit for the Streets.
1. Enjoy yourself
First, I think it is important to choose an event that will challenge you but also one that you will enjoy. To really give the event and fundraising your all, have some fun with it. If the challenge is too difficult for you, you might not want to keep taking part or continue posting about it.
2. Make it personal
People really relate to personal stories, so try to be open and honest about why you have chosen the challenge you have and why you feel it is important to raise funds for your charity. Keep any updates about your progress authentic; if you have had a tough run, walk, cycle etc. talk about it. People will engage with your honesty and when you complete the challenge, they will appreciate your achievement even more if they know it wasn't all plain sailing.
3. Social media
I made sure I used social media as a platform to promote Fit for the Streets and to encourage friends, family members and followers to sponsor me. This isn't about badgering people to sponsor you, but instead to give updates on how you are doing so that they go through the journey with you and understand the amount of hard work you're putting in to achieve your goal.
 4. Selfies
Every time I completed a run, I made sure I took a selfie and shared how many miles I had completed towards the challenge. I found that this helped to keep me on track as people could see how many miles I had done and how many I had left to do. People would engage with these posts and cheer me on which I found really helpful. According to JustGiving, fundraisers with pictures or videos raise 14% more per photo, so practice those selfies!
5. Reminders  
Regular reminders are so important! I often forget to sponsor people when they ask and remember to do so when they send a gentle reminder. I shared my sponsorship page many times to friends, family and colleagues. I did this via WhatsApp, Facebook, LinkedIn, Instagram and through emails to ensure I covered all platforms in case people missed a post and so people remembered what I was doing in case they wanted to sponsor me but just forgot about it. Don't be afraid to keep asking people or to keep posting, people want to see positive posts and the good you are doing.    Just remember, don't feel daunted by huge targets because every little helps when it comes to raising funds for charities. Good luck!
You can find fundraising inspiration, free downloadable resources and more here.