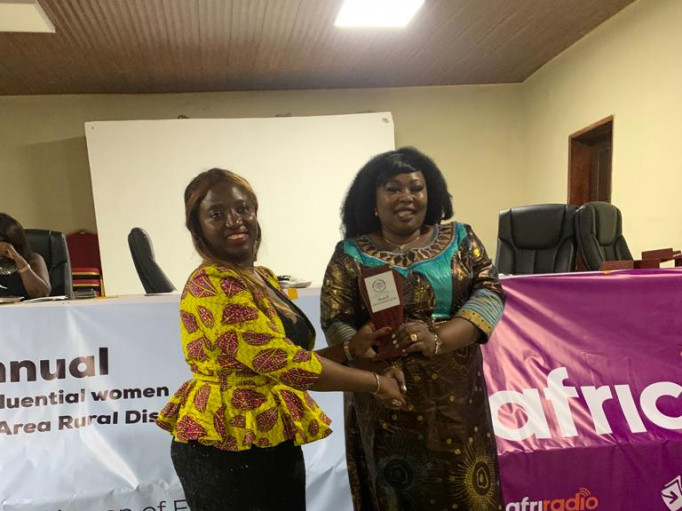 Women and youth empowerment
On International Women's Day, please join us in celebrating the fantastic news that Justina Zainab Conteh, Executive Director at our partner organisation St George Foundation has been named one of the 30 Most Influential Women in the Western Area Rural District of Sierra Leone.
The award was presented by Advocacy for Women and Youth Empowerment; a youth and women-led organisation working in the interest of promoting and motivating women in the district. Justina has dedicated her career to empowering vulnerable children, women and communities through services that enhance their wellbeing, protection and development for more than 17 years in the capital city Freetown, the Western Area urban and rural districts to the provinces.
Recognising women that are creating a positive impact, the awards specifically commend Justina's work with children and local communities.
Inspiring the next generation
Justina dedicated the award to the vulnerable children and the team she works with at St George Foundation. Justina anticipates the award will serve as inspiration and motivation for children, particularly girls and young women, encouraging them to believe in themselves and develop the courage to move out of their comfort zones despite living in a society where they might often experience gender discrimination.
Justina and the team at St George Foundation focus on supporting marginalised and excluded children: children who are reliant on the streets, children from the poorest households, those from families affected by the long-term impact of the Ebola outbreak (including the loss of family members), children in conflict with the law and children living with disabilities.
Street to school
Through the education project supported by Toybox more than 100 street children in Sierra Leone have been provided with educational support; they were enrolled into school and provided with school materials for the academic year. As part of the project, parents and caregivers of street children were trained and supported with good and positive parenting skills. The combination of this support saw 98% of the children remain in school.*
Find out more about our work alongside street children in Sierra Leone thanks to the kindness of Toybox supporters.
*For the period 1st April 2019 - 30th June 2021
BreakTheBias #IWD